Lessons in Love: Baking With Bella
For most of my life, I've associated Valentine's Day with romance. While, I still make sure to celebrate love with my spouse, I think it's important to celebrate all types of love, whether it be romantic, friendship, or familial. It's a day that can be celebrated by everyone, whether you're in a relationship or not!
I wanted to show love this year by doing some baking, and sharing some treats. Baking is one of my favorite hobbies.
I get time to focus and clear my head
I love when my house smells like fresh baked cookies and cakes
I enjoy sharing baked goods with family and friends
Baking triggers positive memories of holidays and gatherings
It reminds of baking with my mom as a child
I baked a lot with my mother growing up. Even 20+ years later, I can recall the joy and excitement of baking a cake with my mom, rolling cooking dough, and making our own frosting. I remember being thrilled as a child, knowing that I could make the same things I saw in-stores at home.
Baking with my mom is a big part of the reason I'd rather take the time to make sweets from scratch, as opposed to using box-cakes and premade cookie dough. I enjoy the process more than I enjoy eating the finished product. Putting all of the ingredients together takes time, and it's time especially well spent when it's with the person you cherish the most.

For me, baking is love.

Now that I'm a mom, I strive to give my daughter the same, fun-filled, loving childhood that my mother gave to me. These days, I bake to bond with my baby.

To celebrate Valentine's Day, I decided to make Valentine's Day cookies with Bella. By sharing this hobby with her, I learned a few lessons in loving my child.
 
1) She Needs Uninterrupted One-On-One Time:
Life is so incredibly busy. With electronics and gadgets to keep us occupied, we often miss out on valuable, REAL facetime. At home, I'm constantly on my phone and laptop, and Bella's usually playing games on her Kindle Fire.
Sitting across from the table with her, measuring ingredients, and talking about our day was something I didn't realize we both needed. I guess, sometimes I think that because she's only 3, there's not much to talk about. I was wrong though, we had lots to discuss!
When I asked Bella what we needed to bake, she quickly responded that we needed butter and eggs. She chatted about her friends from school, and told me about her "pretty and happy" friend Rachel. She quizzed me, asking questions like "which letter makes the PUH sound?" While mixing up our ingredients, I even got a chance to hear some of the songs she's been learning at school. Her eyes lit up when I sang along. She couldn't believe mommy knew the words.
I realized that I should be giving her more of my undivided attention. It's an invaluable way to connect with her.

2) Spending Time Not Money
Because the week is so busy, I make a conscious effort to spend quality time with Bella on the weekends. I'll try to plan a trip to Chuck E Cheese's, visit the children's museum, stop by the library, or even do something simple like go to Dunkin' Donuts and let her pick out her favorite doughnut.
All of these things are great, but I really don't have to spend money to spend time with my child. I don't always need to buy something, or drive somewhere for entertainment. Baking at home is good, inexpensive quality time. I assume (maybe incorrectly) that most people have flour, milk, eggs, and sugar. I bake a lot, so I also have a few extracts, confectioner's sugar, brown sugar, and corn syrup in my cabinets at all times. The only thing I had to purchase was food coloring!
Bella was so proud of herself for baking and she took it very seriously. When we were midway through decorating cookies (about 3 dozen total), I told her she could go watch TV, but she wanted to stay and help. She couldn't stop smiling at her creations. She was excited to show me a cookie every time she decorated one, saying "see mommy, see!"
We can do things at home. This gave me the idea to maybe even try to get into some arts and crafts. These activities are not only ways to bond with children, but they also help with teaching home skills and building confidence.

3) Let Her Be a Kid
I wanted perfect cookies, with minimal mess. Bella wanted to be creative, and throw sprinkles.
I made the icing, and split it up into several bowls so that we could have many colors. I thought white, pinks, and red would be the best colors, but Bella also asked for purple. So I mixed up some red and blue food coloring in one of the icing bowls, and made it for her.
Sometimes it's necessary to be rigid and do things the "adult-way," but one thing I learned is that as parents, we should have some flexibility. Have some fun, be spontaneous, and let kids enjoy their youth. Who says you can't have purple cookies for Valentine's Day? Who made that rule? Who says you can't put food coloring directly on the cookie (smh)? It cost me nothing, and it made her smile.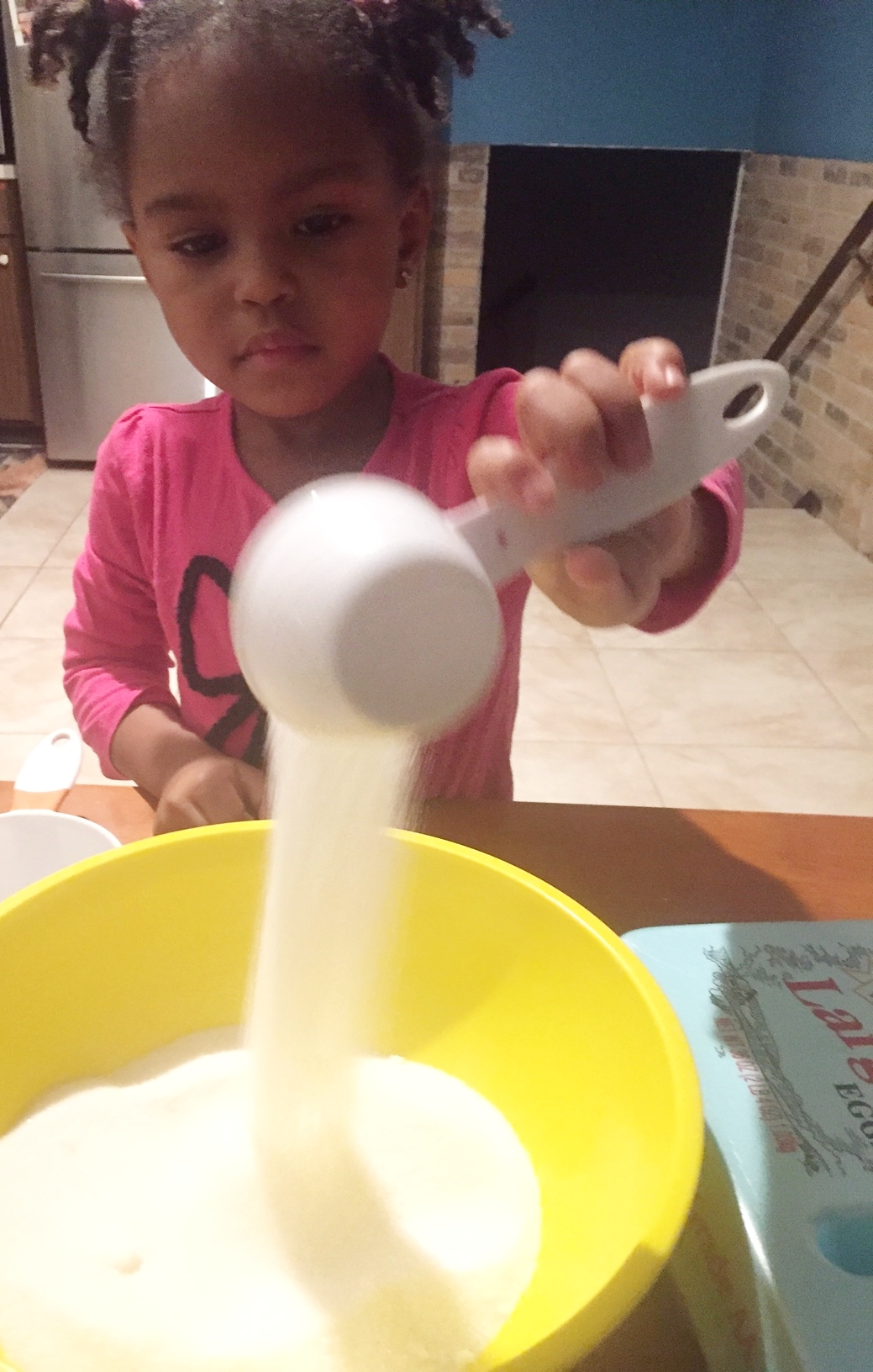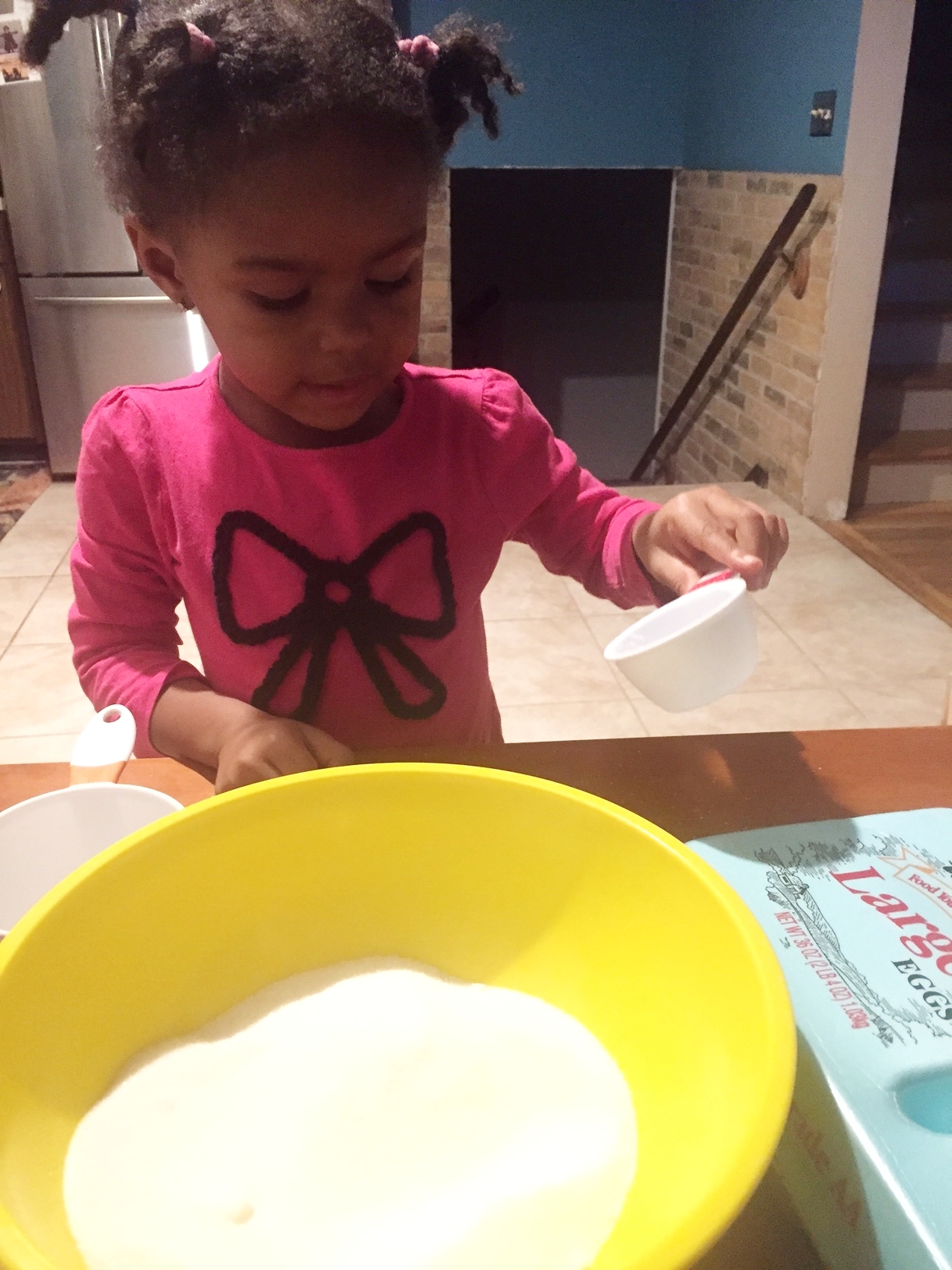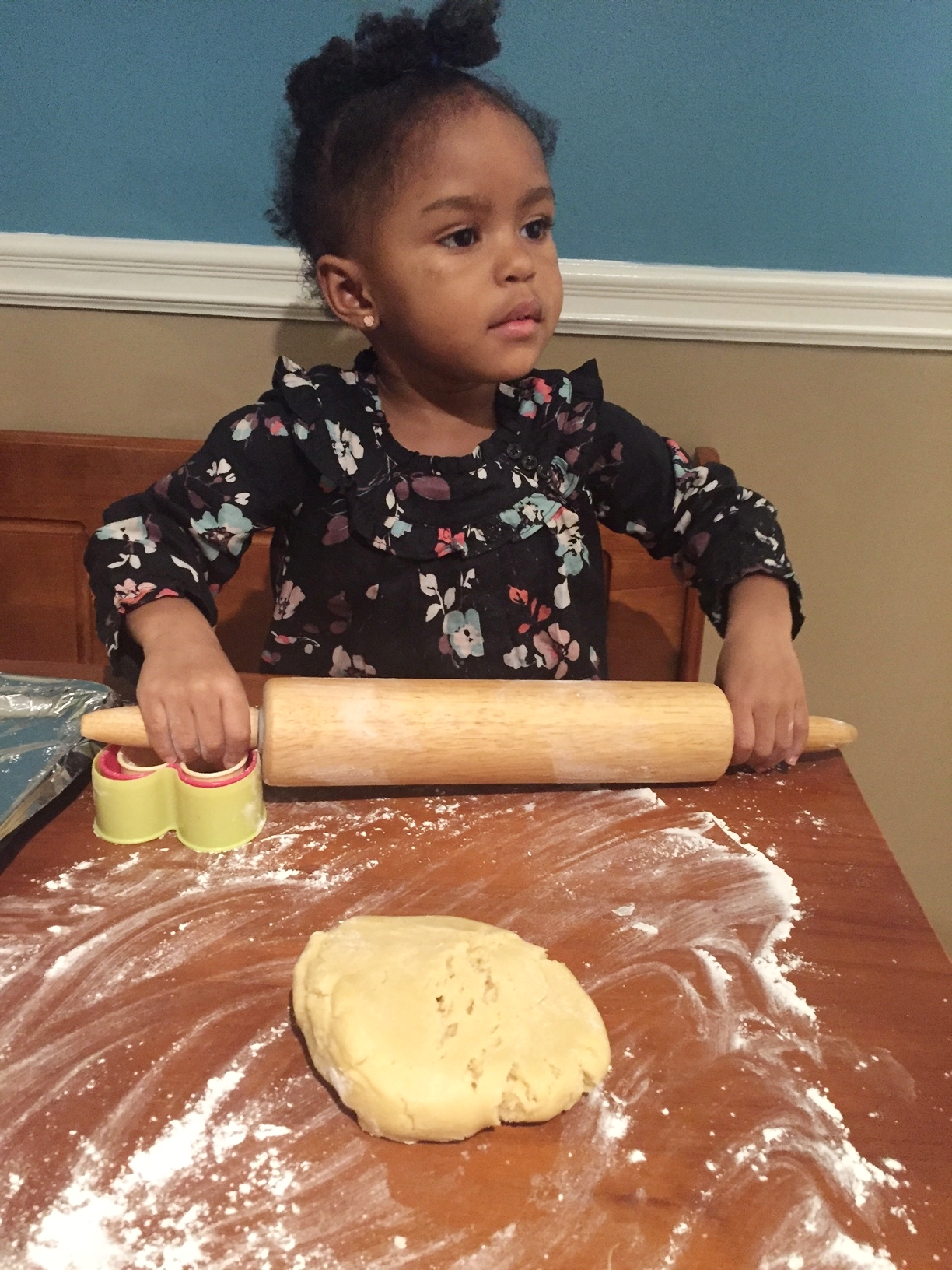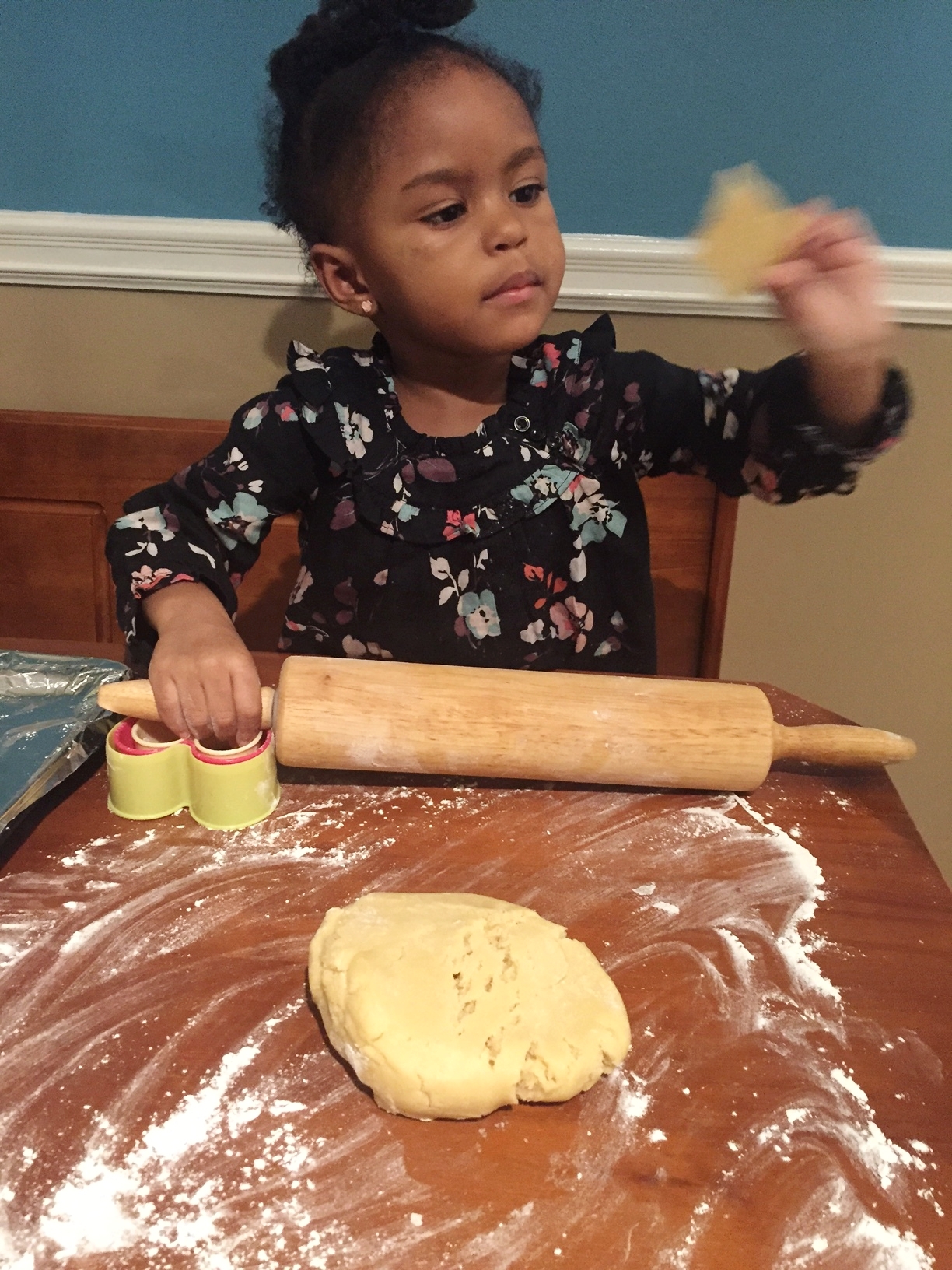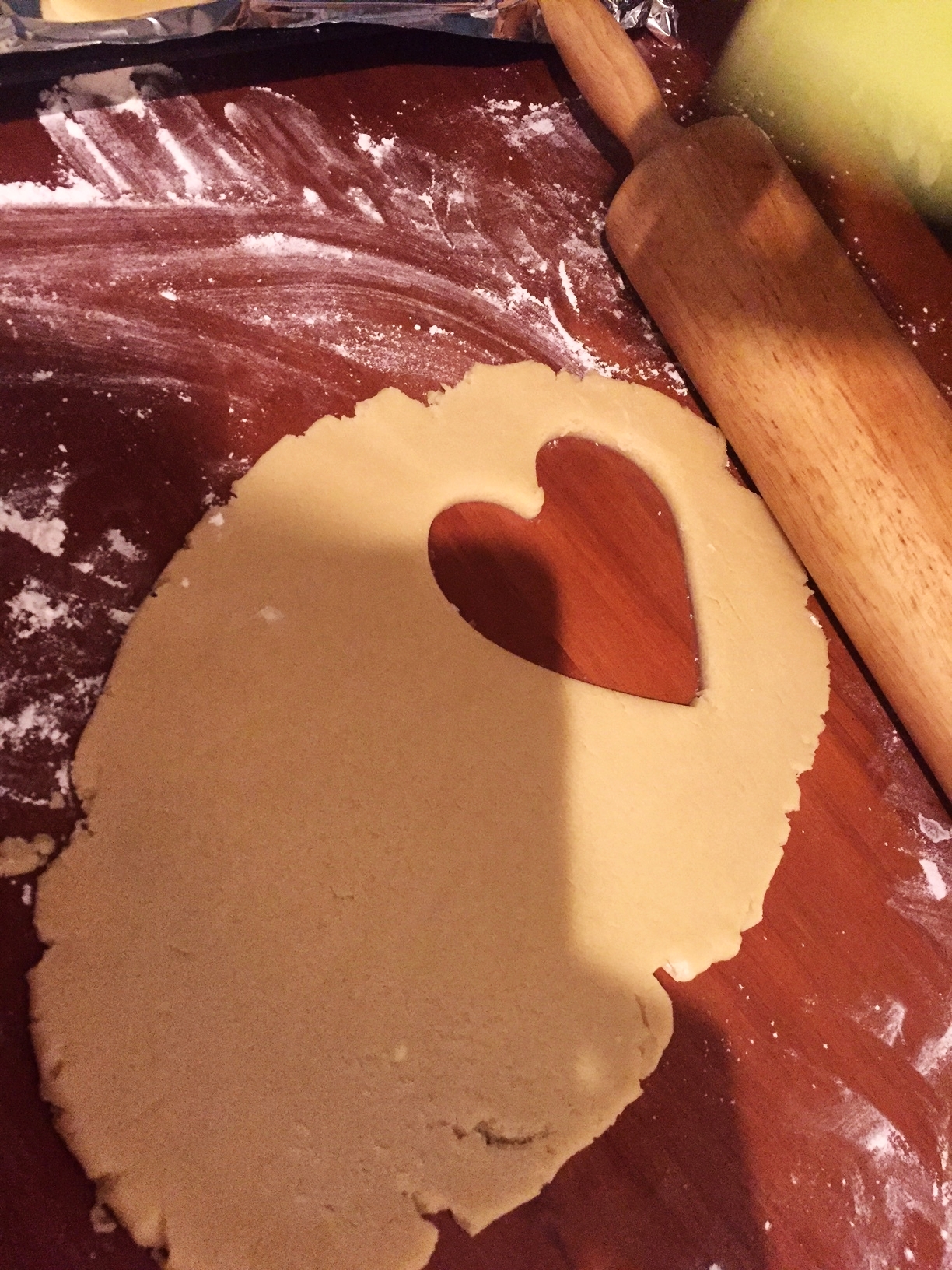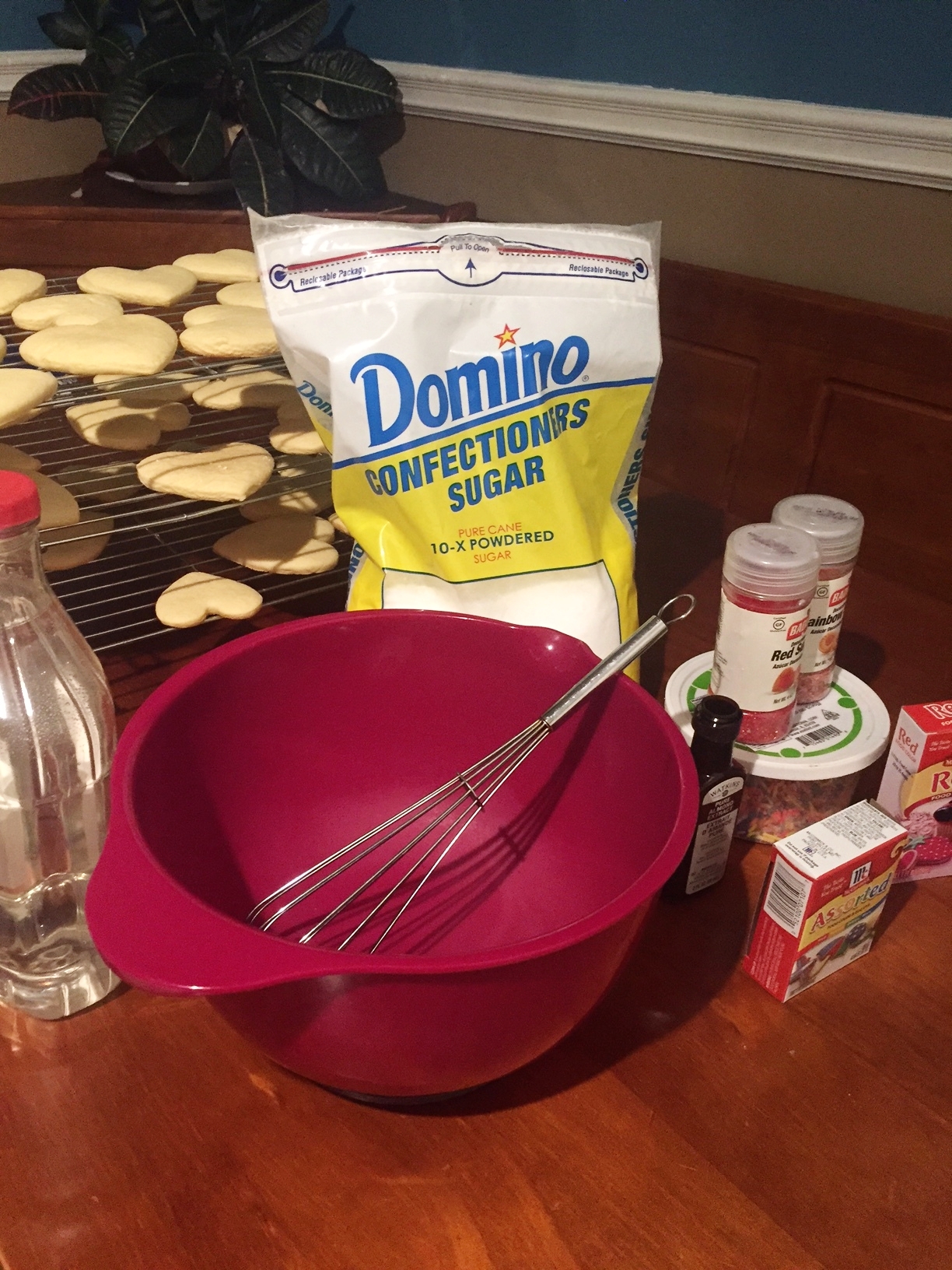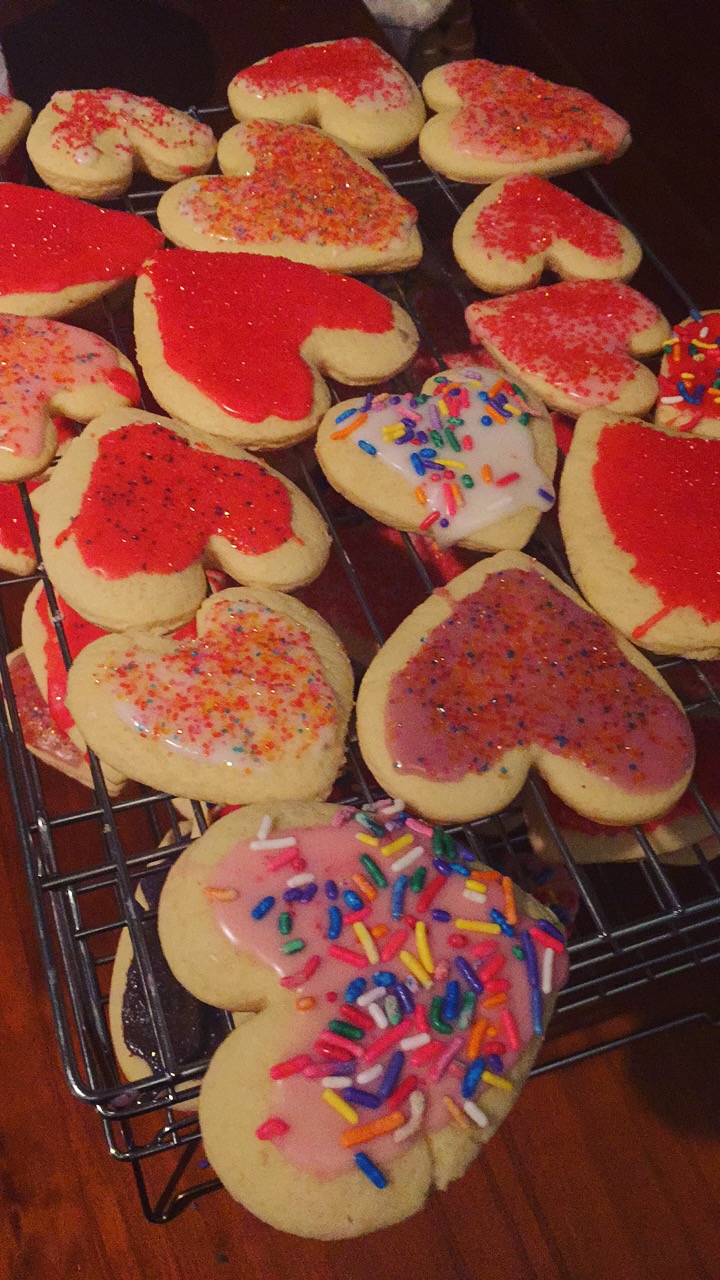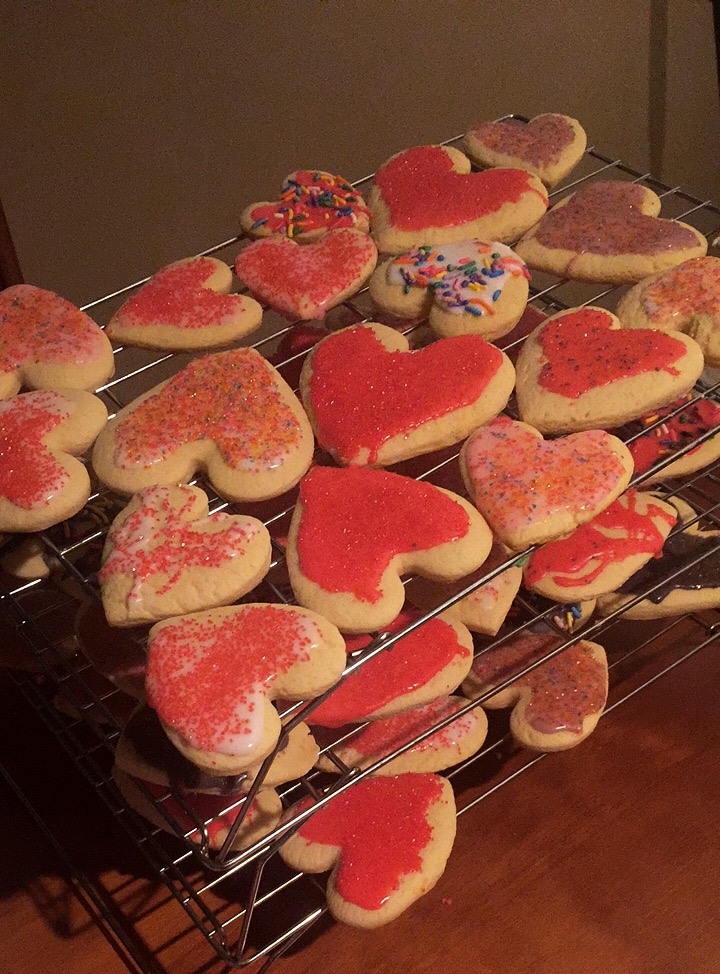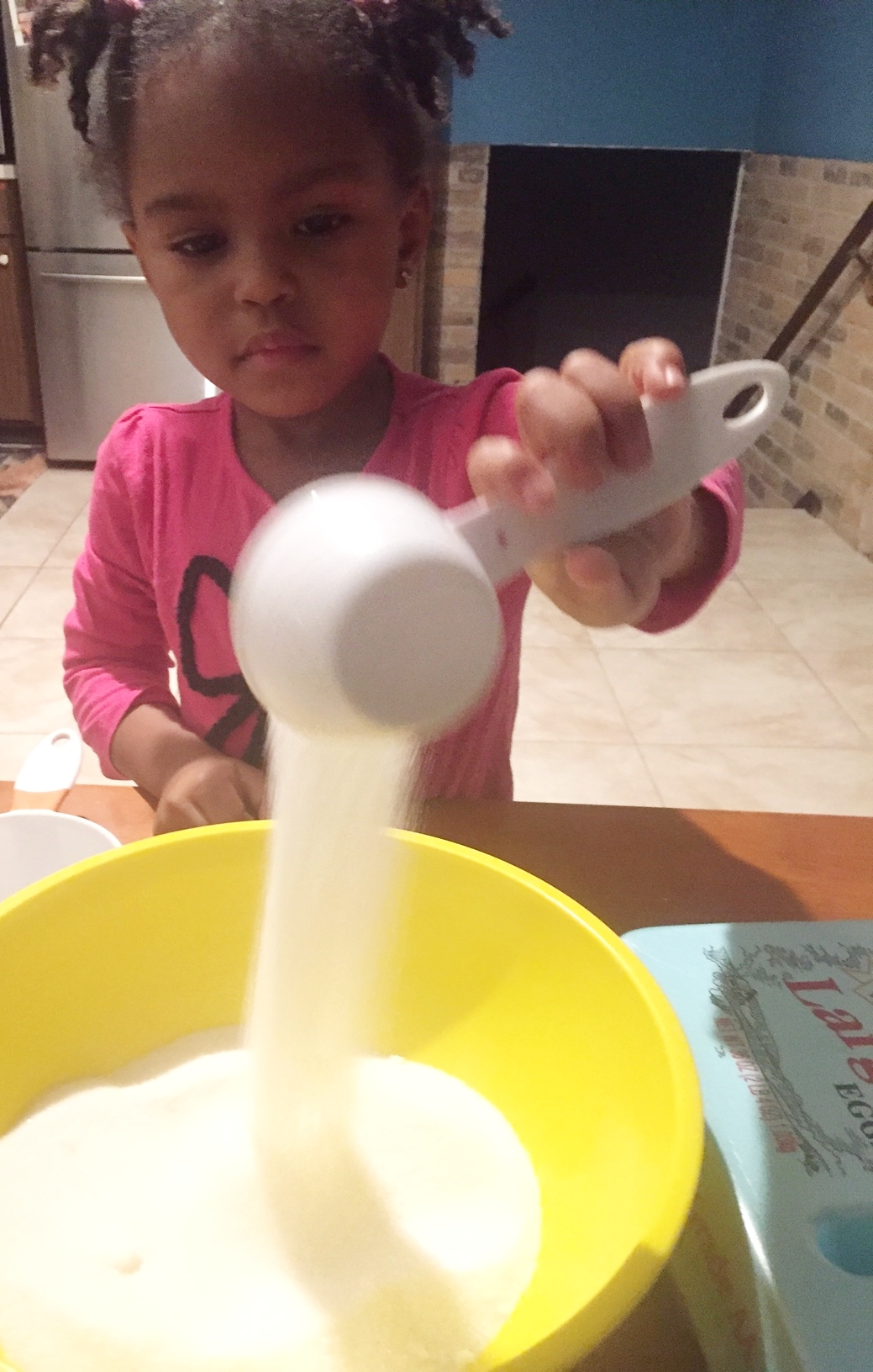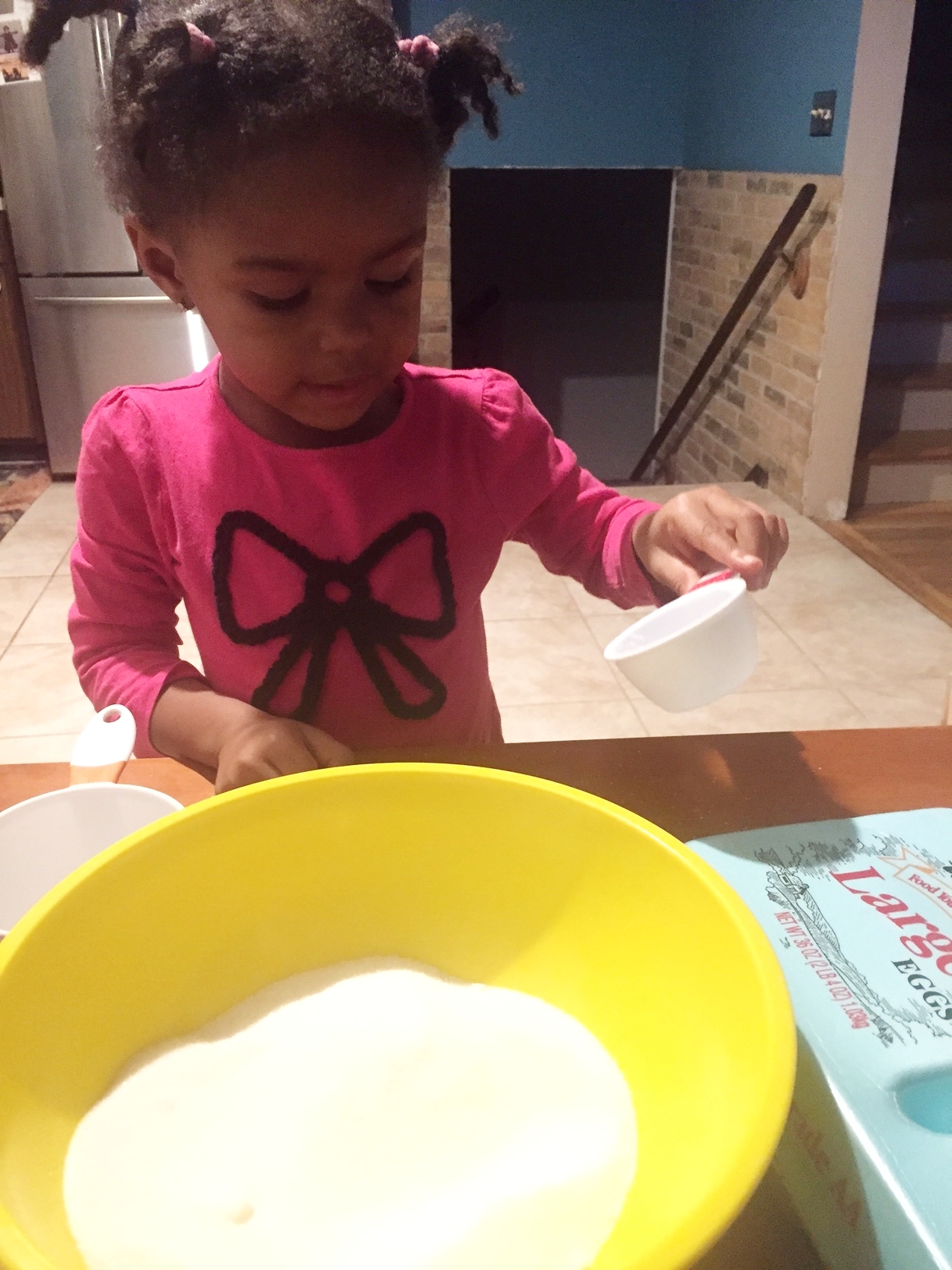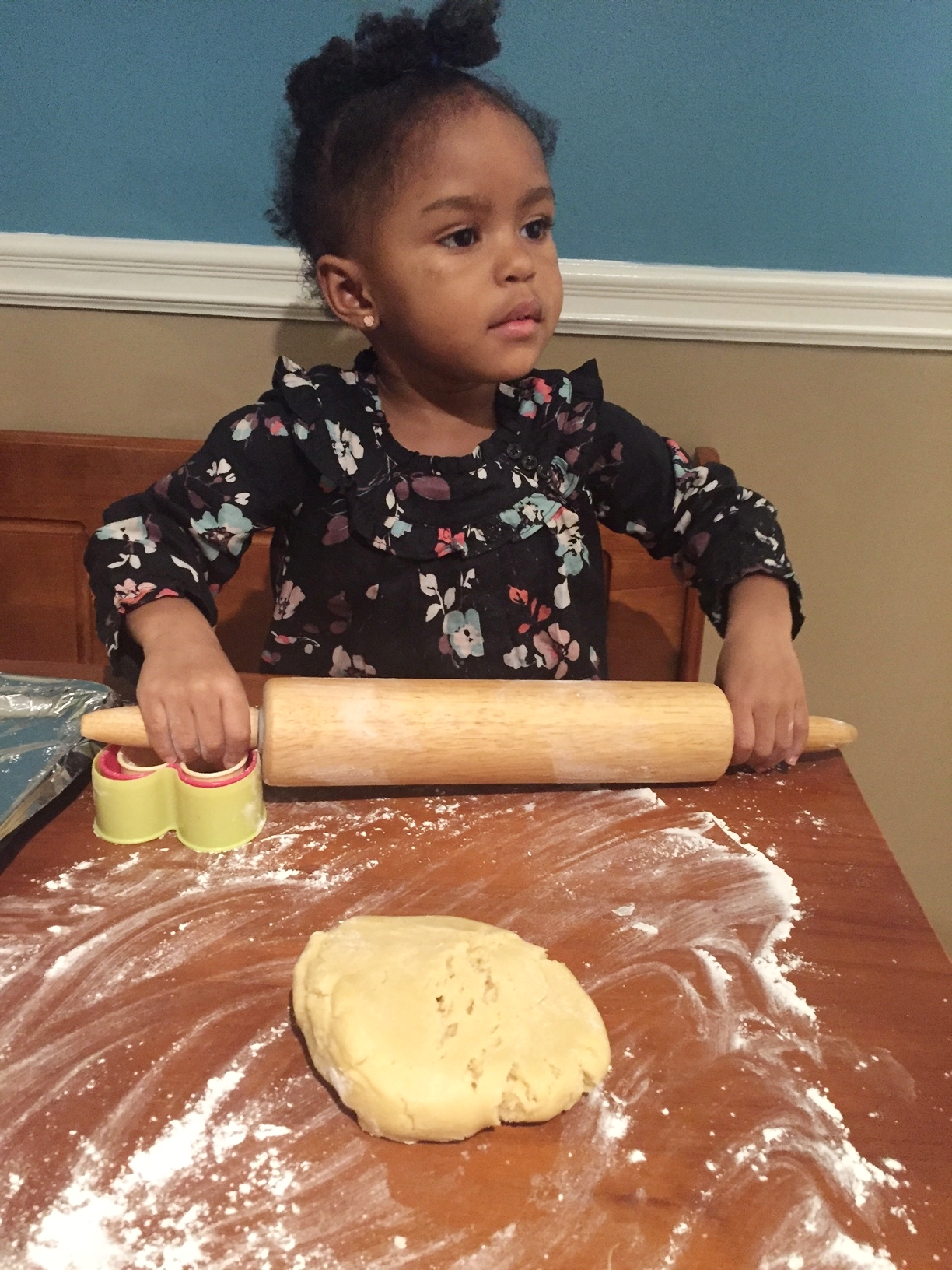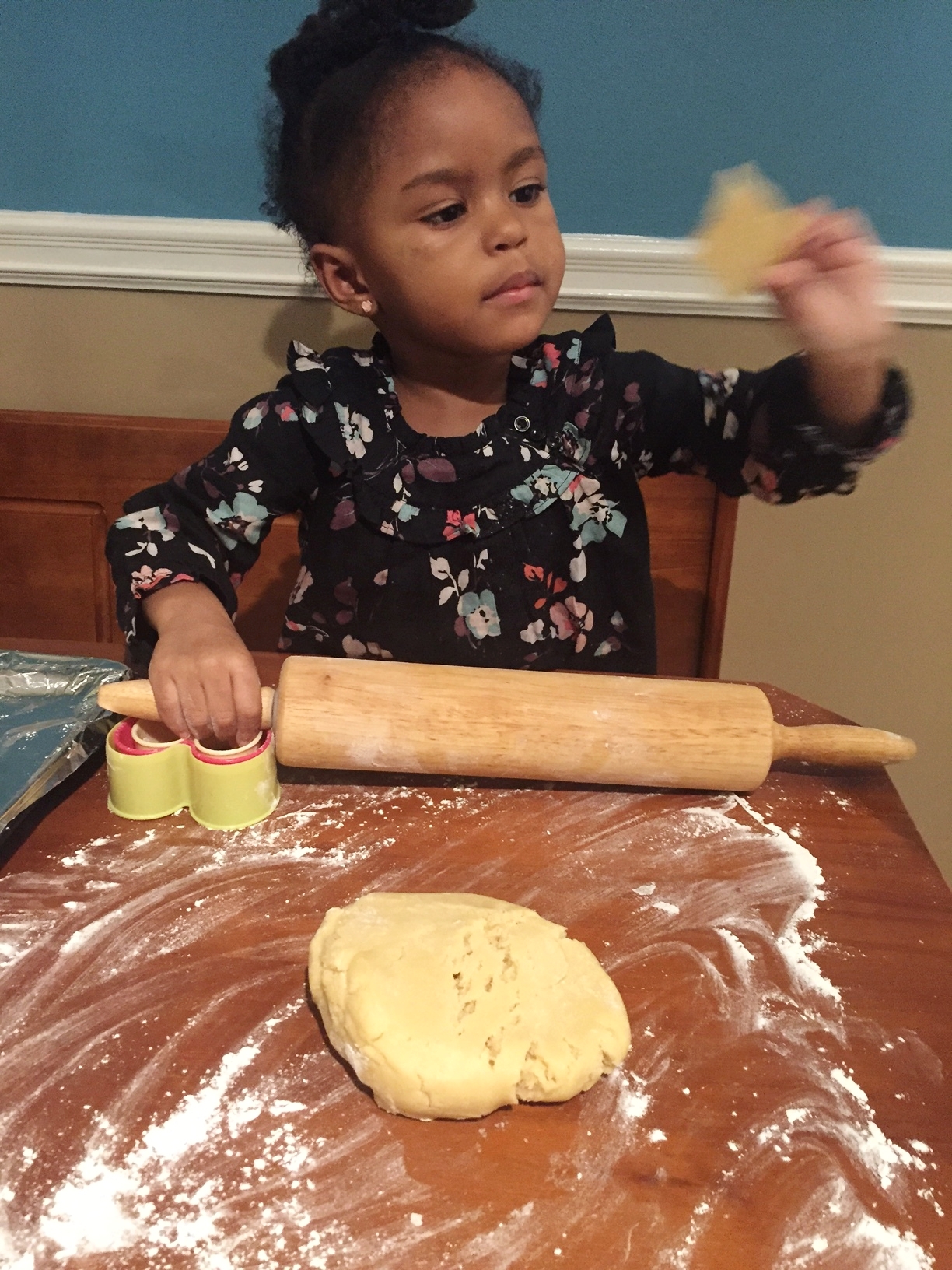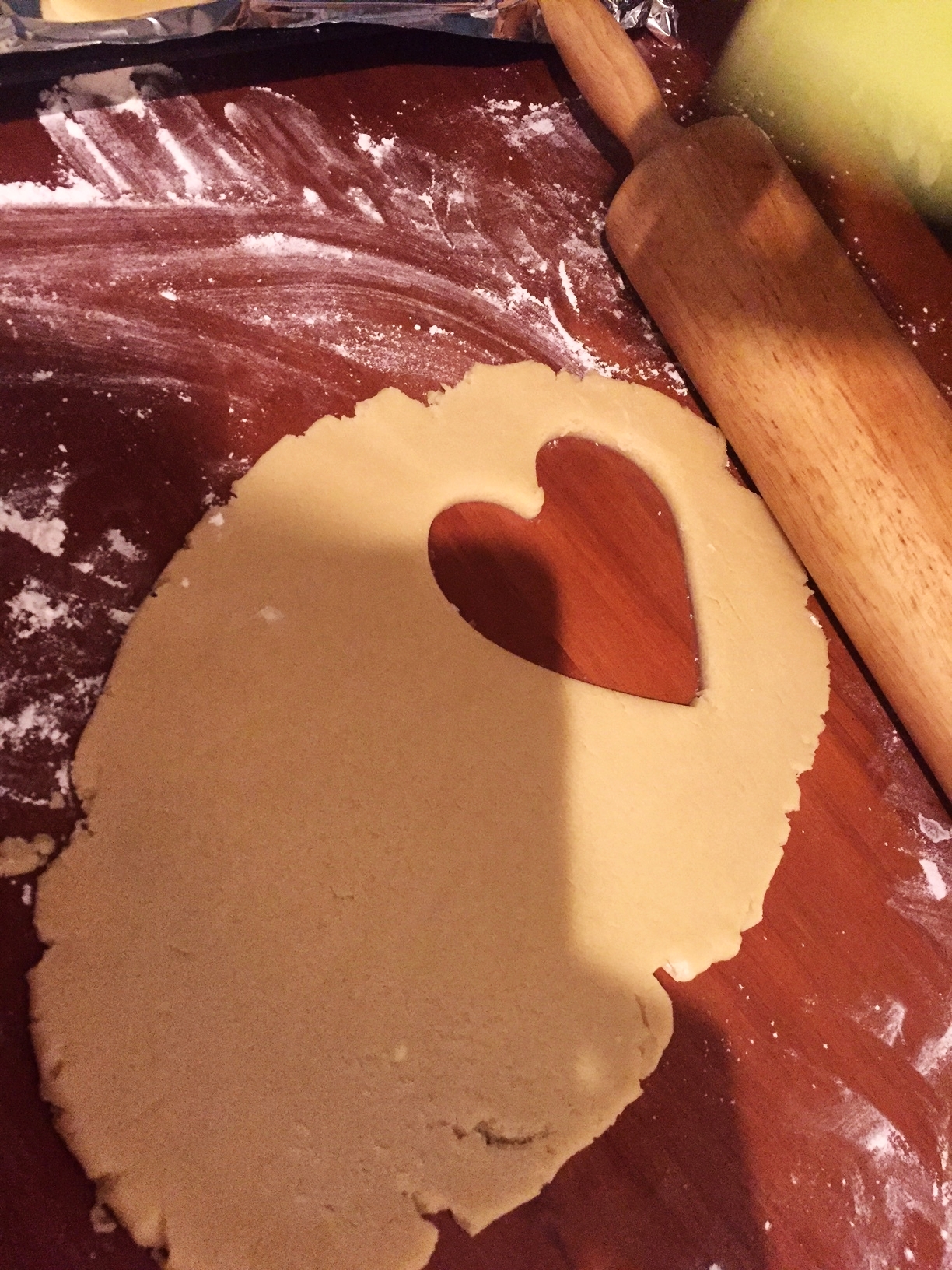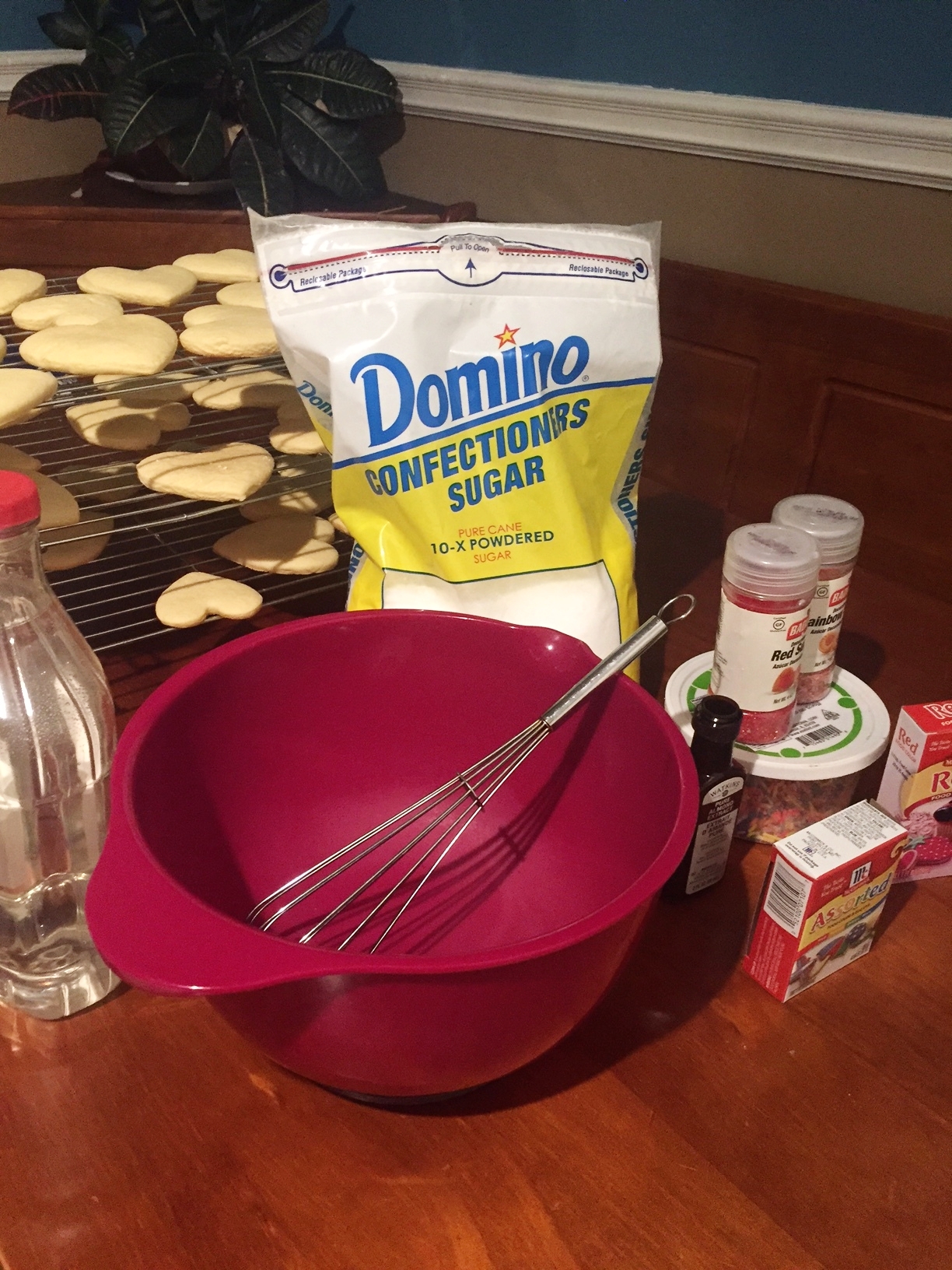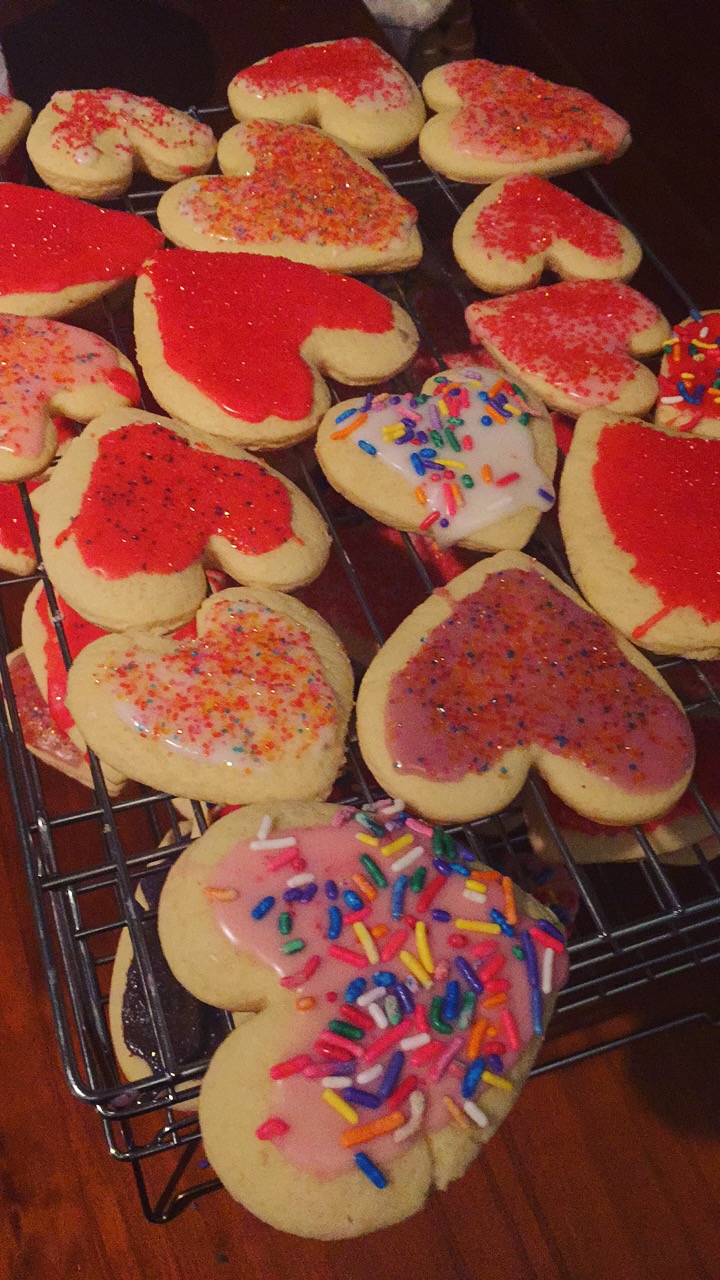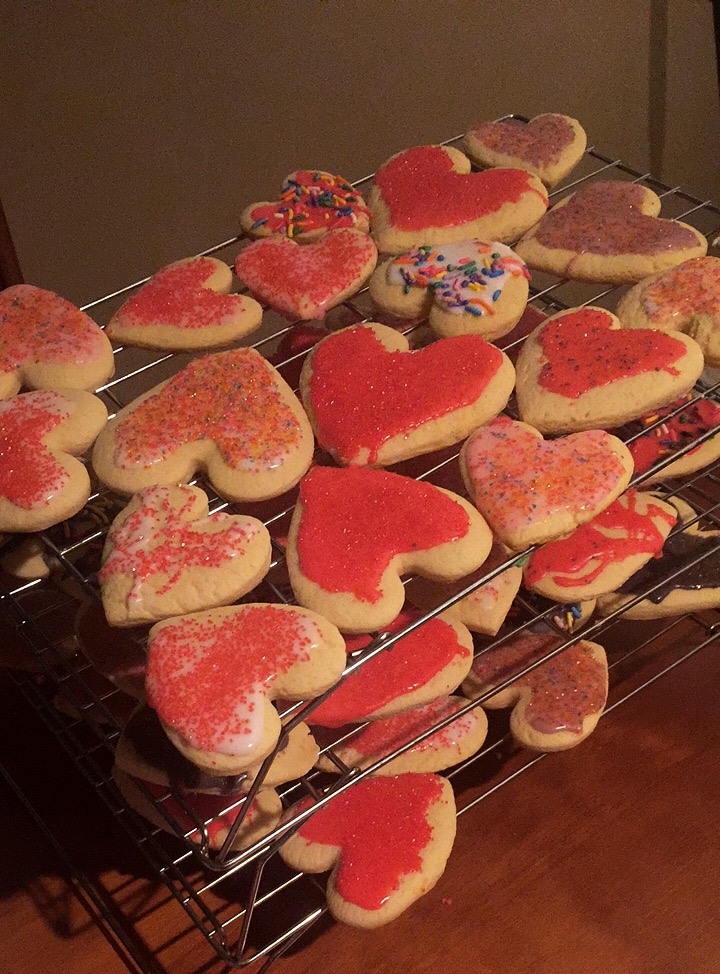 I loved baking with Bella as much as she loved baking with me. Thanks Mom. This a tradition I want to keep up.
Did you guys do anything special with the kids for Valentine's Day?
With love, Happy Valentines Day!

PIN IT!