Miami With Bae and Baby
Okay, so I know basically everyone went to Miami last year, but I'm still going to tell you about my trip. Miami was absolutely wonderful to your girl. The trip was fun, relaxing, romantic, and even heart-warming.
Miami was a somewhat spontaneous trip, but well executed. We were able to knock out several birds with one big expensive stone: my husband and I celebrated our 1st year anniversary, I was able to visit family, and my husband had a chance to see friends and family at the Ugandan North American Association Convention. The timing was also perfect because I was able to fit in one more trip before the start of fall quarter and get some much needed mommy-daughter time with my baby girl.
Highlights:
First Time Flying Southwest: So, this happened by accident really. I was booking our flights through Expedia, and for some reason, I was under the impression that our 2-year-old was still considered a lap baby and would be flying for free. WRONG. Kids 2 and up pay the same price as you and me. This rude awakening prompted me to research budget airlines. I ended up coming across Southwest, and bought tickets that were hundreds of dollars cheaper than Delta and United. On top of the savings, the service was amazing. We were able to check in 2 bags for free, and the flight attendant gave a comical rendition of the usually boring safety precautions speech. Seating was comfortable enough, and Bellz and I wholly enjoyed the honey roasted peanuts and apple juice. I wasn't too thrilled with the open seating policy, so I purchased the early bird option so that we'd have a greater selection of seats to choose from and could all sit together. All in all, I had a great experience with Southwest and I would highly recommend it to others, especially those travelling in groups.
Visited Mi Familia: My mother is a native of Miami, Florida. I think it had been approximately 10 years since I had last visited my aunts, uncle, and cousins. The last time I had visited, I was an awkward teen, and now I'm in my late 20s with a family of my own. Seeing my family was very special to me as I only get to keep in touch with them mostly through Facebook and Instagram. I was happy that everyone seemed to like my husband. No matter how much you love your spouse, it's invaluable to get that stamp of approval from the fam. We all had a good time together. The vibe was very laid back and comfortable. It was like a black holiday party: eating good food at my auntie's house, watching the kids play and run around, and catching up with the cousins, while watching football and waiting for Auntie to unveil the much-anticipated Publix cake. An added bonus is that Auntie watched Bellz so that bae and I could have a night out on the town. Family is everything.
Poolside Living: My number one recommendation when going to Miami, or probably any hot, humid city, is to book a hotel with an outdoor pool! I found the Fortune House Hotel on Groupon (I'm all about the savings), and I loved it. Our suite was one of the best I've stayed in, and we had a great view of the cityscape and sparkling blue pool from our balcony. Bellz and I went swimming every day of our trip. She'd wake up asking to go to the pool. My favorite day in Miami was when my husband went to his conference for the day, and Bellz and I lounged at the pool for hours, only taking breaks to walk to the pizza and gelato shops. The pool kept us cool, and when lounging, the pool canopy bed shaded us from that intense Miami sun. It was perfect.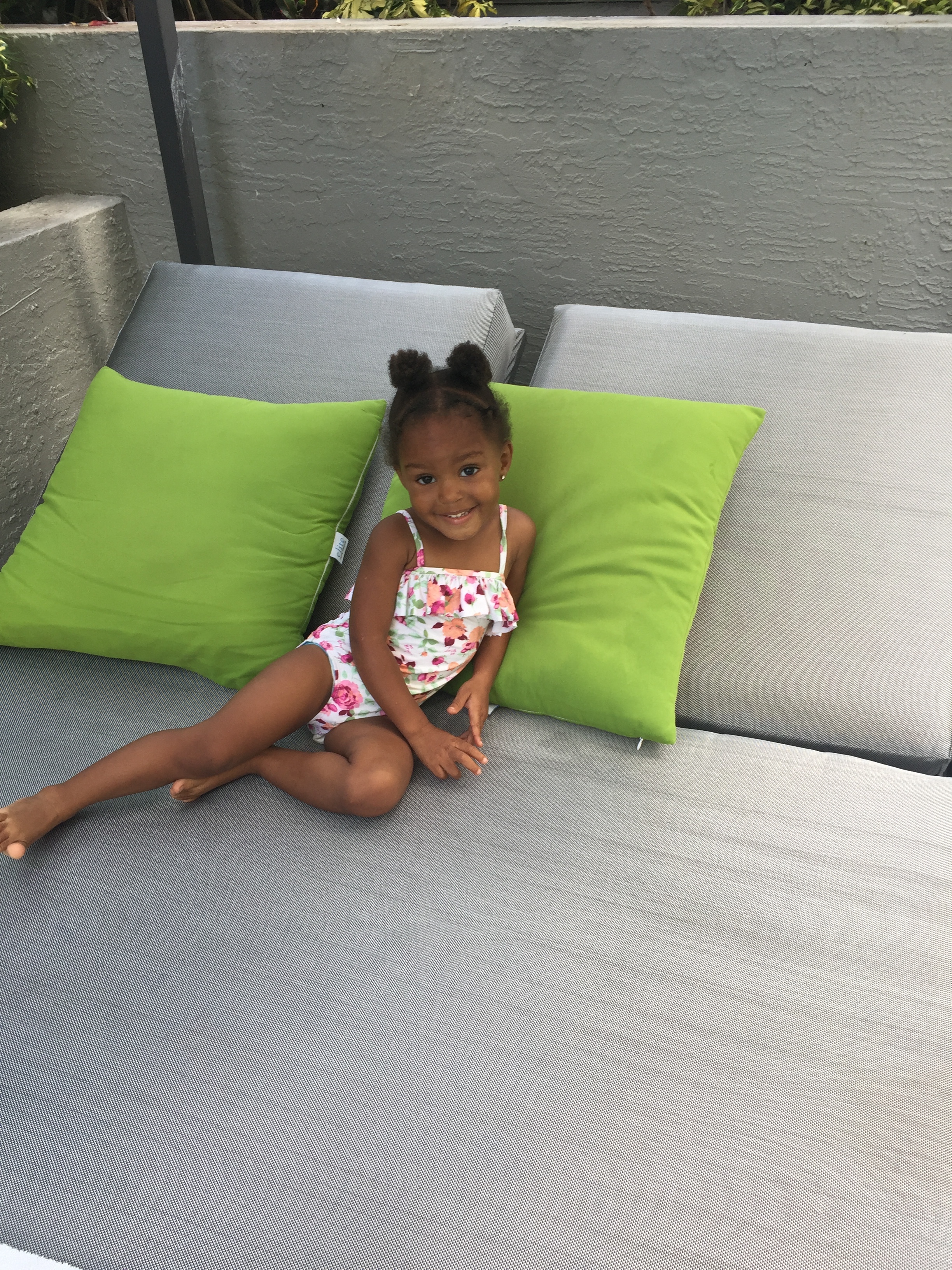 Miami's Children Museum: Bellz and I enjoyed some more mommy-daughter time while my husband was at the Ugandan conference. I hail from Rochester, NY, home of The Strong National Museum of Play, which is regarded as one of the best children's museums in the U.S., so I was probably more critical than necessary. WE were not disappointed. I knew I scored some major mommy points, as Bellz was having so much fun, she didn't want to leave. I personally LOVE multilevel buildings. I always feel like I'm on my way to a new adventure the higher I climb. There was a plethora of exhibits on each floor. We went to the aquarium, then we went fishing. We then ran to the hospital to operate on our patients, then took a quick run to the theater and performed onstage, and even attended a dinosaur wedding and shortly after built towers with life-size blocks. The museum was a great choice, especially considering how hot it was outdoors. Food options were scarce, so definitely plan to eat elsewhere, unless you're in the mood for Subway. We had such a good time. I will definitely make visiting a children's museum a tradition when visiting new cities with my kid.
Ocean Drive: Yes, we fit in a date night! One of the best parts of travelling for me is just walking around and seeing the sights. There was no shortage of things to see and do while gallivanting down Ocean Drive with my babe on our anniversary. There were a variety of restaurants, and somehow we stumbled upon a restaurant that served both Mexican and Italian food? I had nachos AND pasta on an outdoor patio with a sexy drink. What a win. If I had been writing at the time, I definitely would've jotted down the restaurant's name. Ocean Drive is beautiful and my husband and I really appreciated getting an up-close view of all of the art deco architecture. We stopped by Clevelanders for a drink, which was fun but super crowded. We also walked to South Beach and I got a chance to dip my feet in the Atlantic for the second time last year. After all of that walking, I was ready to get to my suite, so although I didn't really experience Miami nightlife, I was quite satisfied with our outing.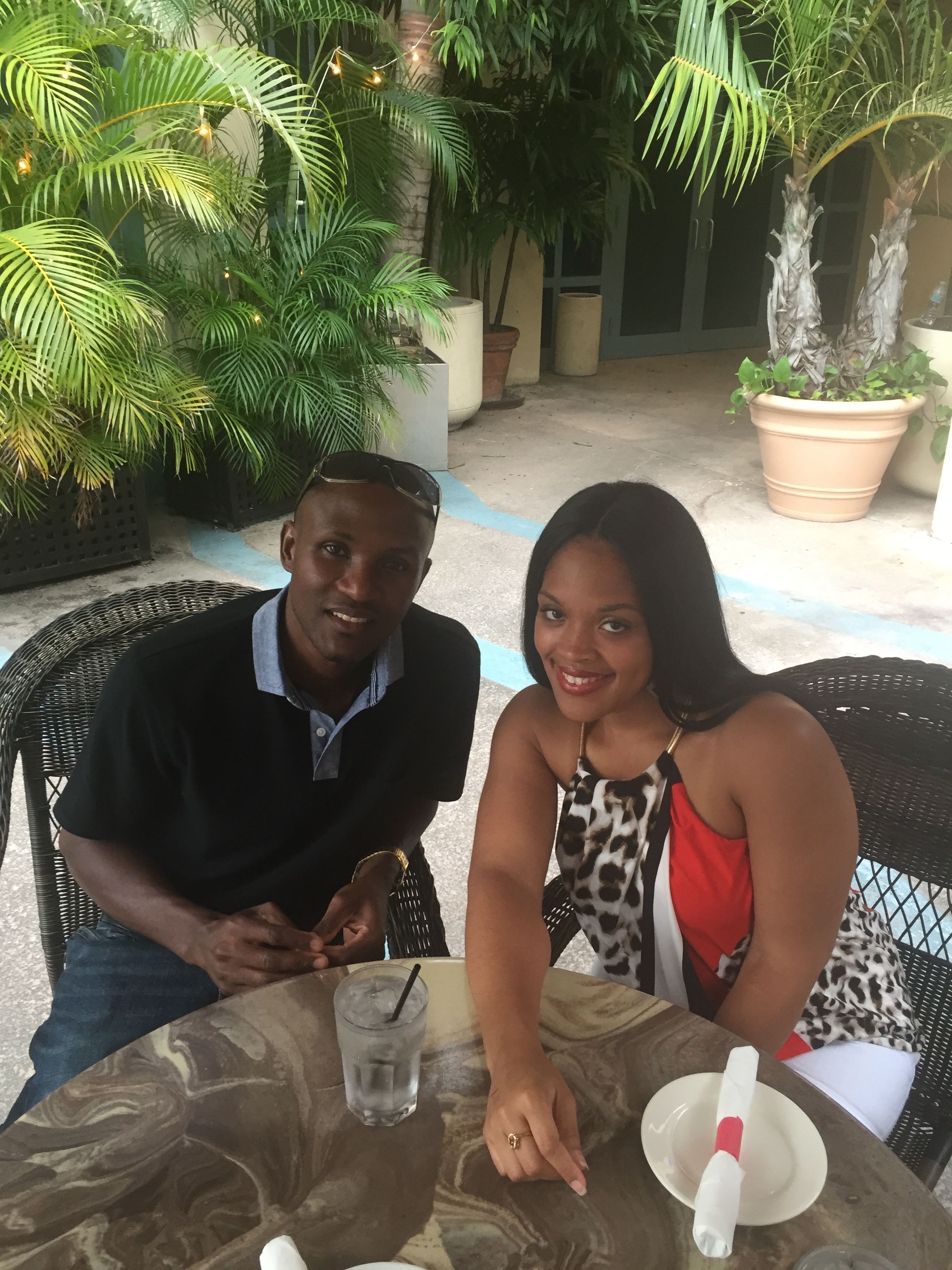 What I Could've Done Without:
Scorching Heat: I don't think I've ever sweat so much while on vacay, not even when I went to Africa. My poor baby was sweating up a storm which is one of the main reasons I kept her at the pool and indoors for a good portion of the trip. I can totally understand why people walk around in their swimsuits. Shorts and mini dresses were my good girlfriends. The heat was unbearable on some days. Maybe end of August/early September isn't the optimal time to visit Miami. I didn't really enjoy being outside unless it was later in the evening when temperatures permitted.
Tipping: Okay, so let me preface this by saying, I am a tipper. Angie luh to tip! I'm one of those people who will stop at an ATM to make sure I have cash prior to purchasing a service because I must tip. Okay? With that being said, dang, y'all was asking for the largest of the tips! My goodness. I bought a drink for $40 - okay, so yeah, it was super large, with a mini bottle of tequila in it, but still - gratuity was included on almost ALL DA CHECKS and it was a hefty percentage. Had I known, I definitely would've been less indulgent with my choices. You have to pay special attention to your receipts, so that you don't tip on top of the tips. Not only are there high expectations for tipping, but the servers were aggressive about their tips. When Bellz and I dined in at the pizza restaurant, I ordered some specialty brick oven pizza. It came to $25 and some change. I gave our server 2 twenties and he asked if I needed change; I responded in the affirmative. He brought back my change, and circled in red on the receipt "gratuity not included" with a red smiley face. I didn't need the reminder as I was already planning to tip, but just not $15. Jeez
Duck Tour: Underwhelmed. Sorry, but I was not a fan. To be honest, my displeasure probably had more to do with external factors: extreme heat and extremely irritable toddler. My husband insists on bus tours when we visit major cities, and usually I do enjoy them. I think the main attraction of the tour is that the bus transforms into a boat. Midway through the tour we took a plunge into Biscayne Bay and were shown all of the celebrity-owned mansions. Our tour guide was very knowledgeable, super bubbly and super Latina, making for an informative, entertaining and cultural experience. Unfortunately, the tour was too long for my liking and I was just ready to get back into some AC because there was definitely none on the bus/boat. Again, maybe this would've been better enjoyed earlier in the year when the weather was cooler, but it was a no for me. If you do choose to go in the future, Groupon is your friend.
I would've added travel time and parking to my list of things I could've done without, but I've learned that those are expected inconveniences when visiting big cities, especially tourist areas. I am also spoiled because I live in a smaller city, where parking lots are free and most places are at most 15-20 minutes apart when traffic is decent.
Overall, Miami was awesome and I'd love to visit again when the weather is more temperate. Just a few days after departing from Miami, Hurricane Irma decided to show up and show out. We were lucky to make it out when we did. So as far as when to go to Miami, maybe Labor Day Weekend is not the holiday. Otherwise, I found it to be enjoyable for the whole fam. How do you guys like Miami?